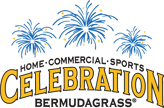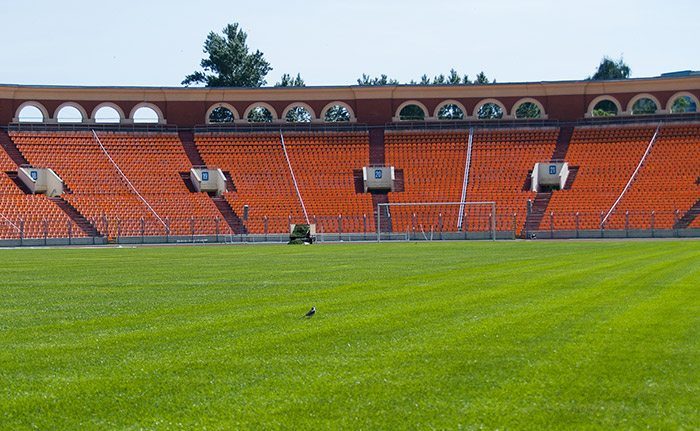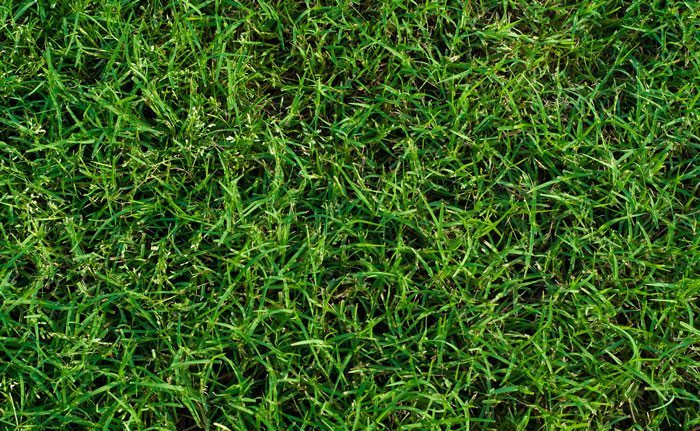 Celebration Delivers Everything A Superior Turfgrass Should: Durability, Exceptional Recovery, Softness, Drought Resistance And Beautiful Color.
An Improved Bermudagrass That Offers Exceptional Performance Across A Wide Spectrum Of Applications
Soft Texture
Cold tolerant
Extreme drought tolerance
More shade tolerance
Exceptional wear tolerance and divot recovery
Striking blue-green color
Uses: Home Lawns – Commercial Landscapes – Parks & Rec – Golf Courses – Sports Fields
Celebration Bermuda Grass is an Australian Breed Cynodon dactylon developed by renowned turfgrass breeder Rod Riley that offers specifiers, landscapers, golf course designers, sports turf managers, and homeowners exceptional performance across a wide spectrum of applications. Celebration Bermuda Grass requires less mowing than typical bermuda varieties and has tough runners, rhizomes, and deep roots that provide excellent sod strength, wearability, and improved drought tolerance. Reduced production costs are achieved by Celebration's rapid expansion rate, reproduction from rhizomes, and natural chemical resistances (similar to other Bermudagrasses) for easier weed control. Celebration is the first bermuda grass to exhibit improved shade tolerance in sports turf comparisons, ranking #1 in a recent Clemson University study, and has gained popularity in Golf and Sport Turf applications for its ability to thrive in filtered shade. In fact, Celebration Bermuda Grass is the most shade tolerant commercially available turf grass. Celebration has also been rated #1 by SAWS and in several comparative bermuda grass studies for its excellent drought tolerance. Want to see more about ongoing and completed research on Celebration? Check out our Research page (NOTE: All links will open in a new window). Also be sure to visit Celebration's Characteristics page for more detailed information about the attributes of this incredible turf grass.
Celebration has proven its ability to thrive in hot, humid conditions in a variety of applications and has performed well in sandy and clay soil types with aggressive growth from its runners and rhizomes. Celebration can be mowed with a standard rotary mower due to its broader leaf and open growth habit. This versatile turf grass has thrived in agricultural zones 6b-11 and is being tested in zones 5 and 6a for cold hardiness extremes. For a color coded US map of where Celebration will grow see our Where It Will Grow page.
All Celebration Bermudagrass grown and distributed across the United States is certified by local state crop certification agencies that provide rigid standards and regulations for production, harvesting, and handling, that when adhered to, ensure a genetically pure, high quality, "certified" turf grass product. Additionally, all licensed Celebration Bermuda Grass production is monitored by Sod Solutions through on-going quality control and quality assurance programs. We have even put together a Best Management Practices sheet for Celebration that will help both homeowners and landscape professionals take the guess work out of maintining a beautiful green lawn.
Still not sold on Celebration? Don't take our word for it! Check out what landscape professionals have to say about this incredible grass on our Testimonials page, or see for yourself what everyone is talking about on our Celebration Photos page.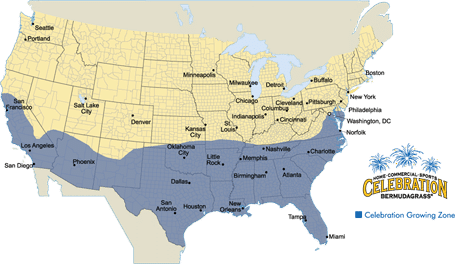 Celebration Bermudagrass tolerates many types of growing conditions, and is versatile enough to be used in golf, sports, commercial and home landscapes. Celebration will perform well in sand, sandy loam, clay or muck soils. Celebration has excellent fall color retention, as well as an excellent rate of spring greenup. While Celebration is a hardy grass, you should carefully analyze your own local growing conditions prior to selecting and installing Celebration or any other turfgrass.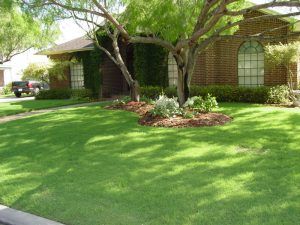 To ensure optimum quality and performance of Celebration, users must accomplish necessary care and maintenance. This care and maintenance has been formalized above in the Best Management Practices (BMPs) for Celebration Bermudagrass.
These BMPs are written as a guide and should be modified as local climate, soil, and environmental conditions dictate. It is important to note that no "magic fertilizer" or "super-chemical" will solve all problems or make any turfgrass perfect.
Through consistent application of the BMPs and on-going evaluation, education, and modification of these practices, however, users will greatly enhance the quality and performance of Celebration Bermudagrass.
Drought
Texas A&M – Drought Tolerance & Drought Resistance – Celebration
Clemson University – Drought Tolerance of Six Bermudagrass Cultivars
Shade Studies
Clemson University – 2007 Celebration Shade Study
Clemson University – Evaluation of Three Bermudagrass Cultivars and 'Meyer' Japanese Zoysiagrass Grown in Shade
Fertilization
Agricumbia – Celebration Requires Less Nitrogen Than 419
Divot Injury & Wear Recovery
USGA – Evaluating Bermudagrass Cultivars for Traffic Tolerance and Recuperative Ability
University of Arkansas – Divot Injury Recovery
N.C. State University – Turf Grass Center Report: What's New with Bermudagrass?
N.C. State University – Athletic Traffic Simulation
Morphological
Instituto Agronomico, São Paulo – Morphological, Agronomic, and Molecular Characteristics of Cultivars and Hybrids of Cynodon Dactylon for Ornamental Purposes
TESTIMONIALS
The two things that impress me the most about Celebration are its drought tolerance and low fertility requirements. Side by side plots with 419 in the field strongly suggest that you can produce superior turf with Celebration using significantly less water and fertilizer inputs.
I like the dark blue-green color. I am also impressed with the rapid lateral growth.
For me, the grass is fantastic. Celebration is on my tees, and has done well where other turfgrasses didn't work. Celebration is a lot tighter on the bunkers. It appears to have more shade tolerance than Tifway 419. I feel that it's done well for me so far; and, over time I'll have an even better feel for it as a replacement for other selections.
One of the most impressive things about this turfgrass is its density: it's thicker, denser, and greener than 419, and has about four times the horizontal growth. Celebration's root mass is intense. It has excellent shade tolerance. The color is just beautiful.
Celebration Bermudagrass has performed in all respects as described by Sod Solutions. This Turfgrass has had more rapid horizontal growth, and has withstood play better than other bermudagrasses. We are very happy so far with the end results.
Before switching to Celebration, I practically had to replace my football field between the hash marks every year; now, I don't have to. Celebration saves me time and money and looks great. I am converting all my athletic fields to Celebration.
Prior to choosing Celebration, I visited the polo fields at nearby Lakewood Ranch, where Celebration was installed. My first impression of the turf was how carpet-like it looked. I was equally impressed with how well it has held up under polo play. Two-months after installation of the rolled sod at our $300,000 soccer complex, I was impressed with how quickly Celebration tacked down, and that it was already thick and green.
Celebration has been a blessing to our school and athletic programs. It has been great for our limited budget because it requires little watering and low chemical maintenance. It has lived up to its 'Billing'.
Celebration Bermuda's shade tolerance, quick recovery from damage and overall growth appearance makes it GreenScape Associates' grass of choice for commercial and residential applications.