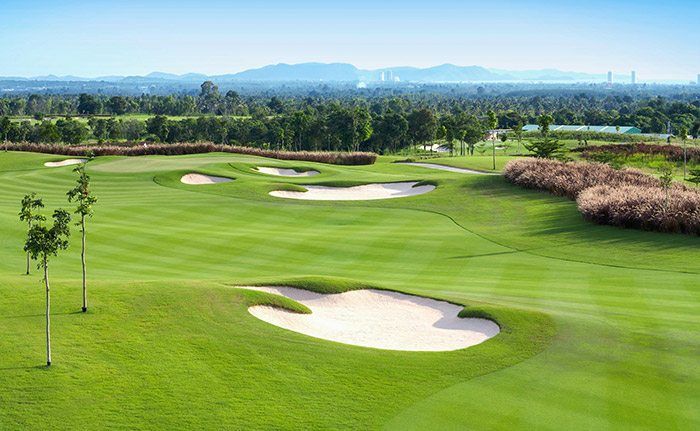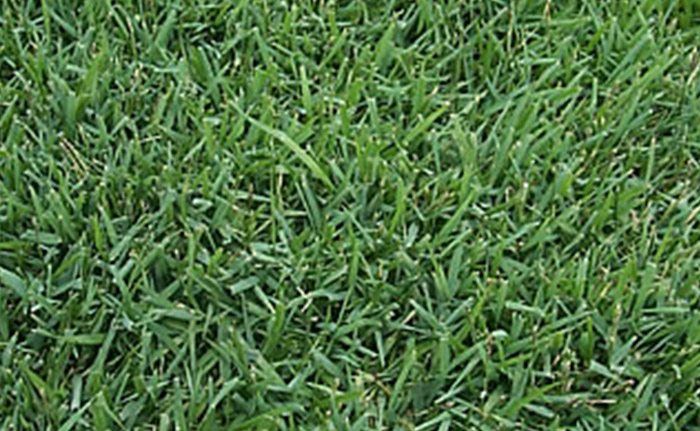 EMPIRE ZOYSIA Raises The Bar For Warm Season Turfgrasses. Dark Green Color, Disease Resistance, Soft To The Touch Feel, Drought Tolerance, And A Proven Track Record Make EMPIRE An Excellent Choice For Home, Commercial, Sport And Golf Applications.
Dark green color
Consistent quality
Drought Tough
Softer Texture
Chinch bug resistant
More durable
Uses: Home Lawns – Commercial Landscapes – Parks & Rec – Golf Courses – Sports Fields
EMPIRE Turf® is a Zoysia® grass that has truly raised the bar for warm season turf grass. EMPIRE sod combines soft to the touch feel with lush green color and fine, tight blade growth. Visually, EMPIRE is an extremely attractive turf grass for any landscaping job. Homeowners and Property Managers also appreciate its many maintenance, environmental, and cost saving advantages. For more information about how to care for EMPIRE Turf® visit the EMPIRE Turf® Best Maintenance Practices page. (NOTE: All links will open in a new window)
You might not expect a turf grass as soft as EMPIRE to be so strong, but this incredible Zoysia® grass accomodates a variety of activities without suffering extensive wear and tear. EMPIRE Turf® is as hardy as it is attractive, and has a deep, thick root structure that makes it more drought tolerant than other varieties of Zoysia grass, once established. In addition EMPIRE's slower vertical growth and natural chinch bug and chemical resistances mean that your lawn will require less maintenance, mowing, and water than other types of warm season turf grass. An EMPIRE Turf® lawn that has been naturalized to the local climate requires minimal irrigation to remail healthy and thriving. For more information about the attributes of EMPIRE Turf ® grass visit our EMPIRE Turf ® Characteristics page.
Reduced maintenance needs and durability are EMPIRE's hallmarks. EMPIRE Zoysia grass was originally developed in Brazil, and thrives in both harsh tropical climates such as Southern Florida as well as more temperate regions as far north as Washington and Pennsylvania. EMPIRE Turf® is one of the few grasses rated to perform well in all zones, and it can thrive in varying soils and climatic conditions. Visit EMPIRE's Where It Will Grow page to see a detailed map of the areas across the United States where EMPIRE Turf ® will thrive.
Durable enough for professional use, EMPIRE Zoysia is also a favorite of golf courses, theme parks, master planned communities, office complexes and other commercial areas. Homeowner's and Landscape Professionals agree that EMPIRE Turf ® is an excellent choice for anyone looking for a beautiful and easy to maintain turf grass.
Still not convinced EMPIRE is right for your next landscape project or job? Visit our EMPIRE Testimonials Page to see what Landscape Professionals and Homeowners are saying about this versatile and easy to maintain turf grass. Also, be sure to take a look at the many beautiful Photos of EMPIRE we have posted from commercial landscapes, residential lawns, golf courses, and production/research fields.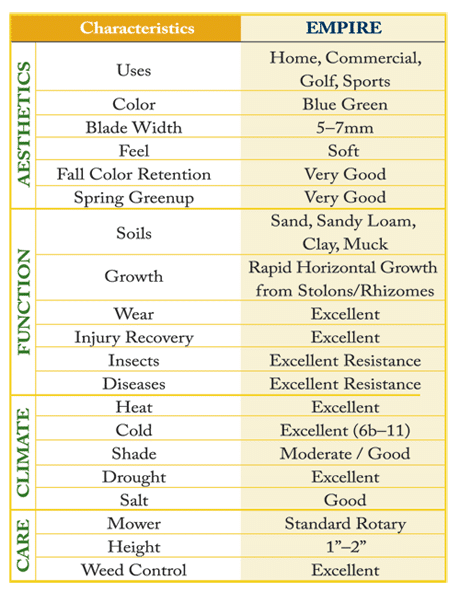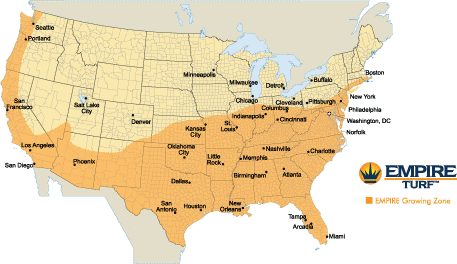 EMPIRE is a superior performer among warm season turfgrasses. EMPIRE thrives in demanding tropical climates, yet also exhibits excellent cold hardiness. EMPIRE will grow in sand, sandy loam, clay or muck. You can expect EMPIRE to retain fall color longer than many other turf selections and to greenup more quickly in the spring. EMPIRE is a durable and versatile turf variety; but as with the selection of any turfgrass, you should understand your own unique local growing conditions prior to purchasing and installing EMPIRE or any other variety.
EMPIRE Turf™ Homeowner's Maintenance
Congratulations on your decision to upgrade your lawn to EMPIRE Turf, EMPIRE is the proven zoysia grass and will supply years of enjoyment. Below are proper care and maintenance checklists for each season. For more detailed information, see the Best Maintenance Practices for Empire Turf at EmpireTurf.com. Following these steps will help keep your lawn looking at its best.
Immediately After Installation: Prepare soil and water lightly before the sod is placed. It is essential that turf is watered thoroughly when installed. Soak upon installation and water is needed to keep new sod from drying out. Overwatering for an extended period, however, will severely damage the turf, inducing disease and rotting roots. It usually takes seven to 10 days during the active growing season for the sod to establish, but may take longer during cooler weather. Proper rooting can be checked by lifting a corner of the new sod piece and noting if "white" roots have connected to the ground. In approximately seven to 10 days, and after rooted in, you can begin mowing every week.
SPRING
Following the final freeze of winter (If your EMPIRE is mature), drop your mower a notch and give your EMPIRE a "buzz-cut", bagging up all material. This will get rid of the brown top layer and any old leaves. Then for the rest of spring keep your EMPIRE lawn mowed between 1-2 inches and bag clippings if possible. Mow once a week during the active mowing season.
Apply lighter fertilizer rate in spring, 0.5 lb N/1000 sq.ft. This is equivalent to 3.33lbs of a 15-0-15 per 1000 or 1.67 of a 30-0-30. To enhance color, use iron (Fe) sources alone or incorporate into the formula. If available, apply micronutrients like Mg, Zn and B. This promotes the overall health of the grass.
Apply pre-emergent herbicide. This will cut down on summer weeds.
Treat with a broad-spectrum insecticide. If using a granular, be sure to water the lawn immediately after application to get into the soil. Make sure it offers control for billbugs.
Don't overwater. In the active growing season, EMPIRE needs about 34-1 inch of water once a week, either from natural rainfall or irrigation. If you have sandier soils, you may need to split your watering (still only 1 inch) to twice per week to avoid wilt during hot and dry periods. Too much water can cause turfgrass disease.
Apply a fungicide if lower than average temperatures and wet conditions are in the forecast. If you had a disease in your EMPIRE in the past or have quite a bit of shade in the yard, you will want to apply a systematic fungicide to prevent future outbreaks.
SUMMER:
Mow once a week and never remove more than 1/3 of the leaf blade with each mow. If you remove more the grass will stress going brown for a short while. If you go on vacation, you may have to mow a couple f times to get the grass back to its desired height, waiting 3-5 days between each mowing.
Be careful not to over water the grass. EMPIRE blades will curl up when it needs water. Water for longer periods of time, less frequently and in the early morning hours.
Always take rainfall into consideration (See spring watering). If needed, incorporate a soil conditioner to increase your soil's ability to retain moisture and reduce irrigation needs.
Fertilize with a heavier rate of Nitrogen compared to spring and fall application rates, using 1 lb N/1000 sq. ft., equal to 6.67 lbs of a 15-0-15. Pay attention to blackout periods in your area. Use a slow release Nitrogen product prior to the blackout and something more soluble following the blackout in fall.
FALL
Apply "winterizing" fertilizer using a lighter rate, 0.5 lb N/1000 sq ft. for an 8-0-16 use 6.25 lb N/1000 sq ft. or for a 10-0-20 use 5 lbs/1000 sq ft. Following a blackout period, use a soluble fertilizer.
Apply fungicide. This will help the grass enter the colder months in a healthier state. You will likely need multiple applications, remembering to wait 21 days between.
Treat with broad-spectrum insecticide. If using a granular, make sure to water the lawn immediately after application to help it get into the soil. Make sure it offers control for billbugs and mealy bugs.
You will mow less in the cooler fall months. Leave your EMPIRE Turf lawn slightly higher than normal to encourage deeper root growth for winter by adjusting your mower settings to go up one notch.
Water less. As temperatures drop grasses don't need as much irrigation so adjust your schedule accordingly.
If you haven't had problems with winter weeds in the past, you can forgo herbicide in the fall. However, if you do get winter weeds, you can apply a pre-emergent herbicide for prevention.
WINTER
Maintain your EMPIRE lawn, mow and water less in the colder months.
Herbicides
Clemson University – Evaluation of EMPIRE Zoysiagrass at Elevated Rates of Herbicides
Drought
Texas A&M – Drought Tolerance & Drought Resistance – EMPIRE
Roberto Gurgel – Drought Tolerance Mechanisms for EMPIRE Turf
Fertilization & Deficit Irrigation
University of Florida – Fertilization, Deficit Irrigation and Nutrient Leaching Study
Mowing Frequency
Ozbreed Australia – Mowing Height and Frequency Among Turf Varieties
Erosion Control
Australia Crop & Nursery Service – Soil Strength
Research in Progress
Texas A & M, Dallas, TX – Drought Study – LGIS (Linear Gradient Irrigation System)
New Mexico State University, Las Cruces, NM – Drought Study
Ruskin, FL – New Zoysias entries evaluations – Ongoing
More research upcoming
TESTIMONIALS
This is a great grass. It's shade tolerant, heat resistant and drought resistant. We can bring it up to an inch and a half and cut it with a regular rotary mower. We have had great response to EMPIRE from our owners. They like the look and feel if it because it is similar to the types of grass used in the north, where many of our homeowners are from.
I love this grass. When we started looking for an alternative to St. Augustinegrass, the first thing that attracted me to EMPIRE was esthetics. We are trying to create the aura of backyard Americana and I fell in love with the appearance of EMPIRE before we even began to evaluate its performance.
My wife and I are very satisfied with our Empire Zoysia grass that has been down for almost 5 at years now. We find it to require very little fertilizer, is growing well under the trees, as well as in the full sun. We love the fact that the lawn does not have to be mowed every week in the summer and still has the look of a well kept lawn. The grass does not grow straight up as fast as other types of grass does, but seems to spread out, rather than up! We would recommend Empire Zoysia to anyone.
We put EMPIRE Turf in two of our theme parks in Orlando, and it's doing great. The grass is visually appealing and it holds up well to the traffic. We're very pleased.
EMPIRE Turf is striking to look at and feel. We've featured it in three of our shows.