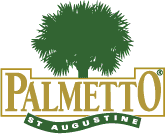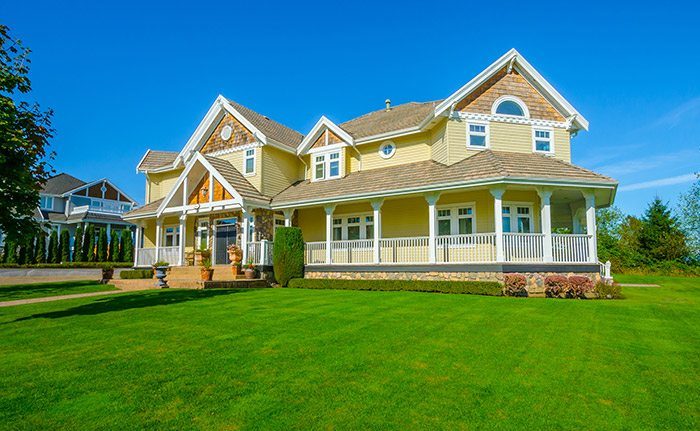 A Superior St. Augustine Grass
Palmetto St. Augustine Is A Low Maintenance Turf Grass With A Beautiful Dark Green Color. Excellent Shade And Drought Tolerance, Cold Hardiness, Disease Resistance, And Soft To The Touch Feel Make Palmetto The Ideal Turf Grass For Home And Commercial Applications Throughout The Southern US.
Emerald green color and finer texture
Superior shade tolerance
Excellent resistance to cold and frost
Exhibits heat and drought tolerance
Low maintenance
Uses:  Home Lawns – Commercial Landscapes – Parks & Rec
Discovered in southern Florida, Palmetto is a native St. Augustine cultivar selected for better color and finer texture. Palmetto's dark green color, exceptional cold hardiness and excellent shade tolerance make it an ideal choice for the home lawn, park or commercial application.  This natural turf grass selection is native to the southern United States and thrives across the country in places like the Carolinas, California, Florida and Texas… all under a wide range of soil and climactic conditions.  To see a color coded map of where Palmetto St. Augustine will grow, visit our Where It Will Grow page. (NOTE: Links will open in a new window)
Aside from Palmetto's great asethetic attributes, Palmetto has set itself apart as technically superior to common St. Augustine varieties.  Plus, it is an environmentally friendly turf grass. Palmetto sod requires less water and maintenance than other St. Augustine turf varieties. This will not only make you feel great about being environmentally responsible, but will also lead to cost savings from reduced watering and other inputs such as fertlizer and pesticides.  For more information about the benefits of Palmetto St. Augustine be sure to check out our Characteristics chart. You can also see some of the academic trials that have been done with Palmetto St. Augustine on Palmetto's Research page.
Homeowners and Landscape Professionals love the easy low input maintenance program that Palmetto requires.  We have put together a detailed Best Maintenance Practices program that is easy to follow and sure to keep your Palmetto lawn looking great.
The success of Palmetto St. Augustrine turf grass is unparalleled over its two decade history.  Palmetto is now the largest volume patented turf grass in the world with over one billion square feet sold.  This incredible turf grass has even gained popularity across the globe in places like Brazil and Australia.
Want to hear what pros and homeowners are saying about Palmetto St. Augustine? Be sure to check out Palmetto's Testimonial page. You can also see some beautiful shots of Palmetto St. Augustine in residential lawns, commercial properties, and during production on our Palmetto Photos page.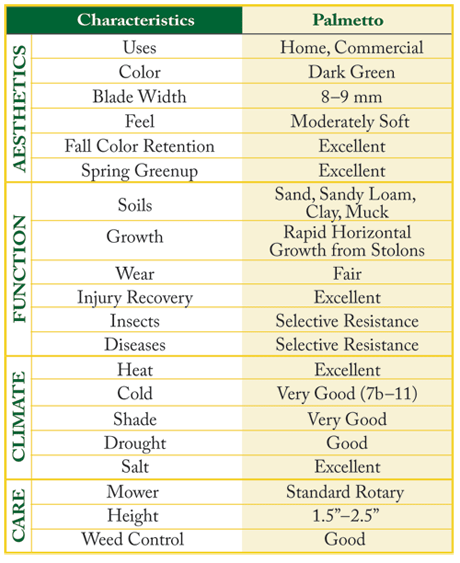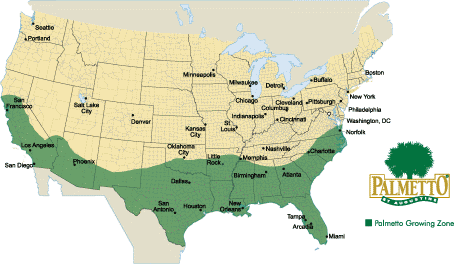 Palmetto St. Augustine is a hardy, low maintenance turfgrass that grows well in a wide variety of conditions, including a variety of soil types. Palmetto will thrive in sand, sandy loam, clay and muck. Palmetto will perform well in full sun and with as few as four hours of direct daily sun. While Palmetto is a durable, versatile, and hardy grass, you should carefully analyze your own local growing conditions prior to selecting and installing Palmetto or any other turfgrass.
PALMETTO ST. AUGUSTINE CARE INSTRUCTIONS
ESTABLISHED LAWNS
APRIL – Fertilize with 16/4/8 for Spring Transition at 5 LBS. per 1000 sq. ft.
MAY – Lawn Fungus control – spray DACONIL at recommended rate and fertilize with 15/0/15.
JUNE – Spray lawn for Mole Crickets, Grub Worms, Fleas, Ants, Chinch Bugs, etc. with Orthene at 2 Oz. per 1000 sq. ft.
JULY – Fertilize with 15/0/5 for Mid-Summer color.
AUGUST – Lawn fungus control – Spray DACONIL at recommended rate.
OCTOBER – Fertilize lawn with 5/10/20 for root hardness to prepare lawn for winter.
NEW LAWNS
Our warranty for St. Augustine during the 90 degree weather in June, July & August is limited to acceptance at delivery that sod is well cut, moist & green.
IMPORTANT INSTALL STEPS DURING HOT WEATHER
Must have soil already wet where sod is being installed
LAY THE DAY OF DELIVERY.
WATER THOROUGHLY day of install & every day for next 2 weeks until sod roots.
Immediately after install treat with fungicide such as BAYLETON AT THE CURATIVE RATE
Immediately after install treat with a good insecticide for sod web-worms.
Do not install in any extremely shady spots during this time of the year.
Maintain at no less than 3 in" to reduce stress & 4" in shadier spots
The insecticide and fungicide treatments need to be every 30 days until Labor Day to get past the Fungus/Worm Season.
Herbicides
Clemson University – Evaluation of Palmetto St. Augustine Tolerance to Asulox and MSMA
Clemson University – Evaluation of Palmetto St. Augustine Tolerance to Various Broadleaf Herbicides
TESTIMONIALS
Palmetto St Augustine is a vigorous, dark green grass that looks great. I've got some growing ad it's doing well. My agents tell me that it's showing good shade tolerance. . . Look like they've got a winner!
Palmetto St. Augustine gives us the flexibility to use it in full sun, or in some shade shade. But, it is Palmetto's good looks that make us able to use it anywhere.
Palmetto St. Augustine is demonstrating the positive traits we expect from a St. Augustine, but with a high tolerance for cold and drought. It takes several frosts to brown out, which means it's staying green much longer than other St. Augustines.